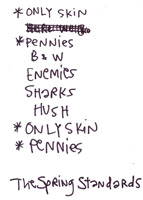 Check out the melodic trio The Spring Standards double EP Yellow // Gold at your local record stores...what's that? You don't have a local record store? Well you can also pick it up here using your computer machine: http://bit.ly/109nmSj
It was really great meeting east coasters James, Heather and James during SXSW. When first listening to the EP I was really drawn in by the harmonies and the Fleetwood Mac style of switching of vocalists across many of the songs. It's great when a band can play many rolls and not just be stuck with everyone only doing one thing.
If you.re looking for a perfect example of the harmonies that James, Heather and James are capable of , check out the track "Pennies". It's got that feeling of riding on a train and campfires at night. Also be sure to check out the track "Sharks", where Heather gives a very vivid account of living on the east coast and being afraid of sharks which she metaphorically works into this great track. We were also big fans of "Bells and Whistles" as well as "Only Skin" which you can see below.
We really look forward to seeing these folks again when they make their way into town and wish them the best!
THE SPRING STANDARDS BONUS TRACKS!
Be sure to click here or on the Facebook icon at the top right to hear The Spring Standards Bonus Tracks: "Enemies" and "Only Skin".
Check out the gear we used and if you have questions about shots you can direct them to
questions@transistorsix.com
. We will feature some of them on our Facebook pages with answers. Please be specific about the photo in question and we will try to get back to you.